Our passionate, versatile and highly-adaptable crew members are here to support your production.
With highly-engaged and experienced people on our expanding crew list, we are here to go above and beyond in supporting your production company and help you bring your vision to life without breaking the bank.
Upon arriving in the Kootenays, you'll be greeted by dedicated crew members who are affordable, down-to-earth, versatile and highly-adaptable. Our crew members have worked on film sets in Toronto, Vancouver, Montreal and around the world, including major Hollywood productions. 
Our support services include unique and reliable accommodations and transportation options, world-class food and beverage services, and more. Our film commissioner, John Wittmayer, is here to help you navigate it all and support you every step of the way. 
Our experienced and dedicated local crew is made up of engaged Kootenay Screen-Based Industry workers
The crew that will help meet the needs of your next production is part of the Kootenay Screen-Based Industry (KSBI) initiative, which is dedicated to empowering and supporting local film industry workers in the Kootenays. They've created a hub for the cross-pollination of ideas, resources and opportunities for screen-based professionals.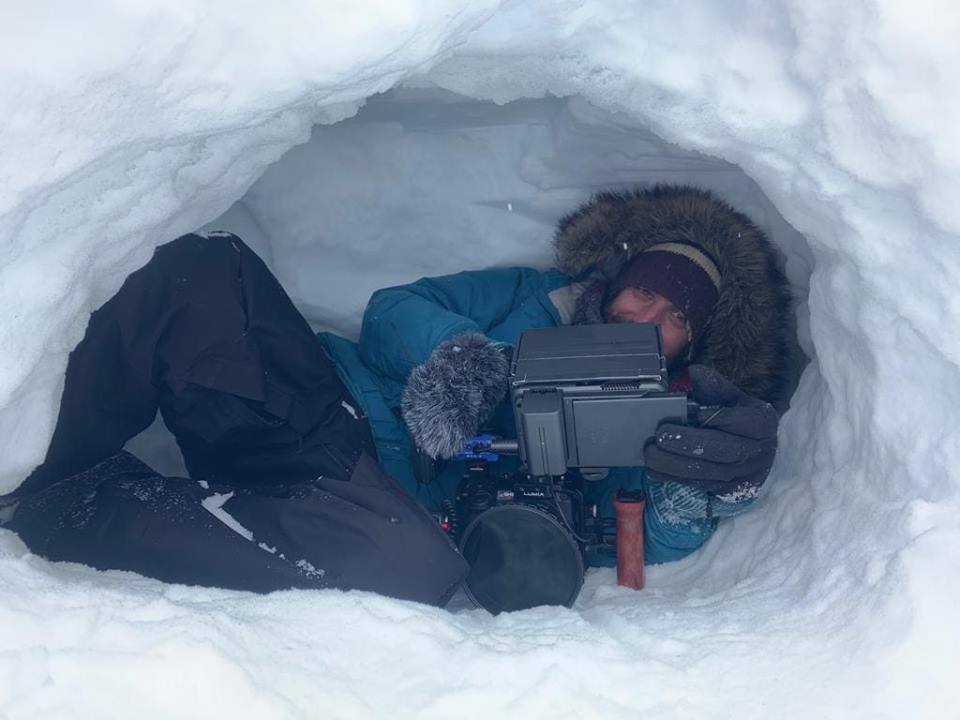 KSBI workers include: 
Videographers

Cinematographers

Actors

Camera and grip operators

Directors

Post production editors

Screenwriters

Craft service

Animators

Production assistants

Audio technicians 

And many others
KSBI offers our local community a private Facebook group, made up of nearly 500 members, as a way for people to collaborate and support one another and further develop the local film sector. KSBI also offers an equipment rental and lending platform, events, meetups, networking and professional development opportunities.
Examples of professionals from the KSBI community include:
Jason Mannings

(Nelson, BC), an Emmy award-winning cinematographer and director

Carrie Wilson

(Nelson, BC), a big second camera in the industry and has worked on productions such as

Jurassic World

,

Ghostbusters

,

Inception

. 

Garvin Cross

(Rossland, BC),

stunt coordinator, precision stunt driver and trained actor. Won a Leo Award for Stunt Coordinating and has worked as a stunt actor with Jackie Chan on

Rumble in the Bronx,

and with Director Christopher Nolan on

Inception.

He also stunt-doubled Daniel Craig and worked alongside Tom Cruise as a stunt double on

Mission Impossible,

stunt-doubling Jeremy Renny. He was also a stunt performer on

The Revenant.

Both

Inception and Revenant

are Academy award-winning films.
Production resources for your next shoot
The high amount of precipitation in the winter makes for incredible film opportunities well outside of the normal "season". Even in May and June, there are opportunities to ski and golf on the same day. Since our ski resorts and backcountry lodges are at higher and steeper elevations than the coast and other parts of BC, our champagne powder snow (which we have lots of and is unique to our region) stays around longer. 
We also have multiple access points to the alpine, resorts and backcountry lodges with a plethora of lifts, helicopters and snow cats. You can experience multiple seasons in one day as our towns down below can either be snow-free in the spring and fall or have a lot less snow than the alpine during the winter months. With our typically milder winter temperatures in some parts of the region, crews also do not need to worry as much about hands and equipment freezing.
Summers in the region are generally hot and dry, and winters vary from mild to severe. Winter temperatures are milder than our neighbours to the east. Precipitation varies considerably throughout the region. Areas with the least winter precipitation historically (less than 200 mm) include lower elevation valley locations. By contrast, the region includes several areas in the Selkirk, Purcell and Monashee Mountains with on average, winter precipitation over 500 mm and at the highest elevations over 1000 mm.
A commitment to environmental stewardship in the BC film sector
Originating in B.C. in 2006, Reel Green™ has been a core initiative within the Provincial Film Commission at Creative BC. Now a national partnership managed by the provincial film commission, the initiative helps Canada's motion picture industry unite to improve production practices and reduce environmental impacts through strategic collaboration and practical tools.
BC Tax Incentives and Credits
Filming in the Kootenay region means big savings for your production company. 
The film application and permitting process is less expensive in general, and in some cases, not required. Engineering costs, signage, policing, highway use, street use and park use permits are also less expensive here than other parts of the province. Municipalities are courteous, the film permitting process is streamlined, and our film-friendly communities, merchant associations, and chambers of commerce always welcome film companies who want to do business in their communities.
Because of the uncrowded and unspoiled nature of our film locations, production companies will save a ton of money on location site fees. Costly and redundant film personnel are typically unnecessary.
On top of these savings, production companies can also benefit from the following distance tax credits.
Production Services Tax Credit (PSTC)
This 'distant' tax credit allows productions to claim another 6 percent bump above the base rates for Metro Vancouver and the Lower Mainland.
Distant Location Tax Credit
Digital Animation, Visual Effects +Post-Production (DAVE)
The other popular tax credit is called: Film Incentive BC (FIBC)
Film Incentive BC is a labour-based tax incentive that provides refundable tax credits to Canadian controlled production companies based on eligible BC labour costs.
Distant Location Tax Credit
To find out more about tax incentives and credits, visit Creative BC.
Register to be on the crew and support services directory!
COVID-19 – British Columbia is open for business!
The province welcomes all production activities to restart, resume, or begin while following communicable disease prevention guidance.
Creative BC will continue to update their page to provide productions with the most up-to-date and relevant information that addresses the global situation around COVID-19. Should you have specific questions, please contact the Provincial Film Commission at Creative BC.